Event Details
All sponsor packages and pricing will remain the same for our new April 30 - May 2, 2021 conference date. All sponsorship material will be updated to reflect the new date as soon as possible. Any sponsorship packages already purchased can apply towards the rescheduled event. Please email sponsorships@youngcatholicprofessionals.org if your company/organization can no longer participate in 2021.
Sponsor the YCP 2021 Conference and help create an unforgettable experience for our national network. Join us in this unique way and meet hundreds of young professionals at pivotal points in their careers who strive to Work in Witness for Christ™!
For further detail download your exclusive guide to sponsorship Download Here
If you have any questions or are interested in taking advantage of special discounted sponsorship opportunities, please email sponsorships@youngcatholicprofessionals.org.
Please note: when you register, your registration is considered a "membership" in our CRM. Do not let the language confuse you, the "membership" is simply a 2021 Conference sponsorship package.
Please Note that the conference dates found here have been revised. The conference will be April 30th-May 2nd 2021. An updated pdf will be posted shortly.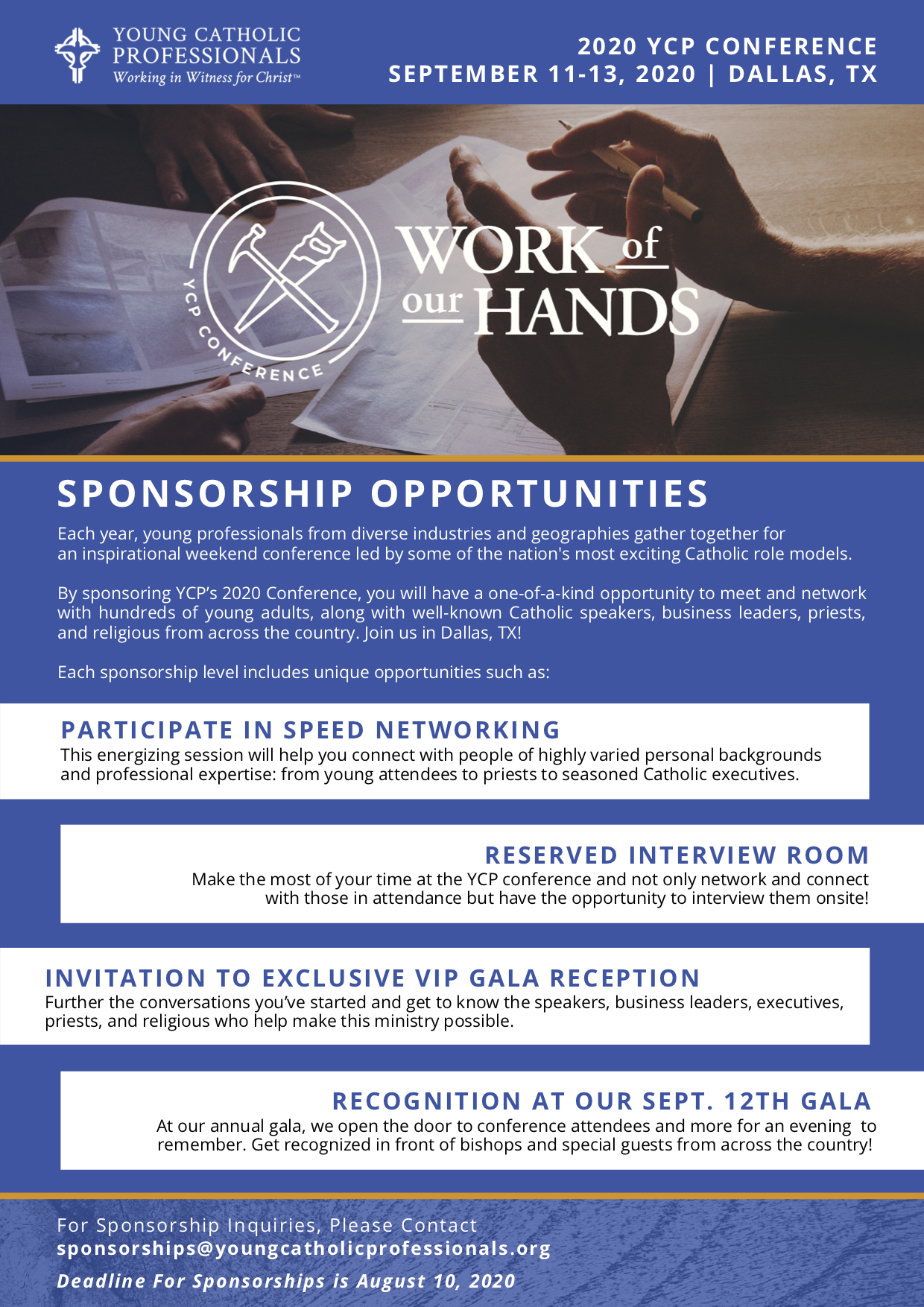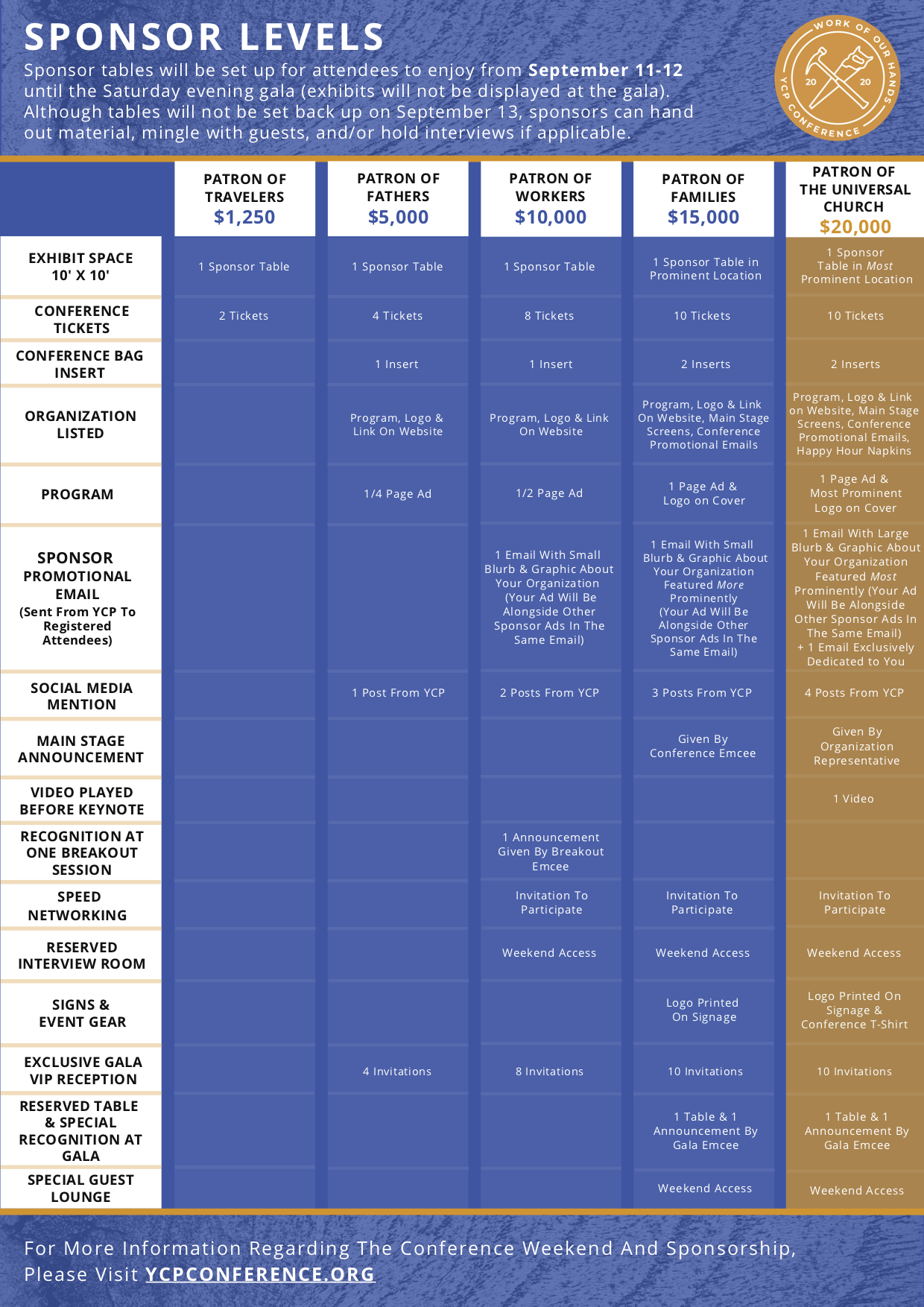 SPONSOR Cancellation Policy
All 2021 sponsorhip packages are 100% refundable on or before January 1, 2021. Cancellations then made on or before March 30, 2021 are 50% refundable. Any cancellations made after March 30, 2021 will not be refunded (loss of full payment).
SPONSOR EXHIBIT SPACE DETAILS
Each 10' x 10' booth will have (1) 6' table, (2) chairs, and (1) table cloth. Wi-Fi will be available for all sponsors. Electricity must be requested upon registration. The location of your space will be provided for you upon check-in at the conference.
REGISTRATION DEADLINE
Sponsorship registration closes on March 30, 2021. All items associated with your sponsorship (logos, program ads, etc.) are also due March 30, 2021. Anything not submitted by this date will not be able to be printed in/on conference material.
SPONSOR GUESTS
All guests attending the conference with a sponsor ticket must register by March 30, 2021. Each guest will need to "purchase" a free Sponsor ticket here on our conference registration page. This ensures that we have all important information such as their name, contact info., dietary needs, shirt size, etc.

Please have one of your guests be a designated on-site contact for us should we need to reach you. This person can select "yes" when asked within the registration form.
SPONSOR CHECK-IN, SET-UP & BREAKDOWN
Check-In: Sponsor check-in on Thursday, April 29th will be in the Texas Grande within the Hilton DFW Lakes Conference Center where sponsor exhibits are located. If you will be arriving on Friday, September 11th, check-in will be at the top of the stairs in the lobby of the hotel's main entrance.
Set-Up: Sponsors are welcome to check-in and set up their exhibits on Thursday, April 29, 2021, from 5:00 p.m. to 9:00 p.m. and/or Friday, April 30, 2021, from 7:00 a.m. to 9:00 a.m.
Break Down: All exhibits break down on Saturday, May 1st from 3:00 p.m. to 5:00 p.m.

Sponsors will be able to have their tables set up for attendees to enjoy on April 30th and May 1st leading up to the gala (exhibits will not be displayed at the gala). On Sunday, May 2nd, tables will not be able to be set back up. Alternatively, all sponsors can hand out material and mingle with our guests that day. If your sponsorship package allows, meetings/interviews can still be held in the reserved interview room on Sunday.
Unloading/loading On-Site:
Please see the map below. Upon arrival, follow the blue arrows to the back dock behind the Texas Grande. The dock is ground level. There is no permanent parking by the loading dock area, so after unloading/loading, please park in the general hotel parking lots.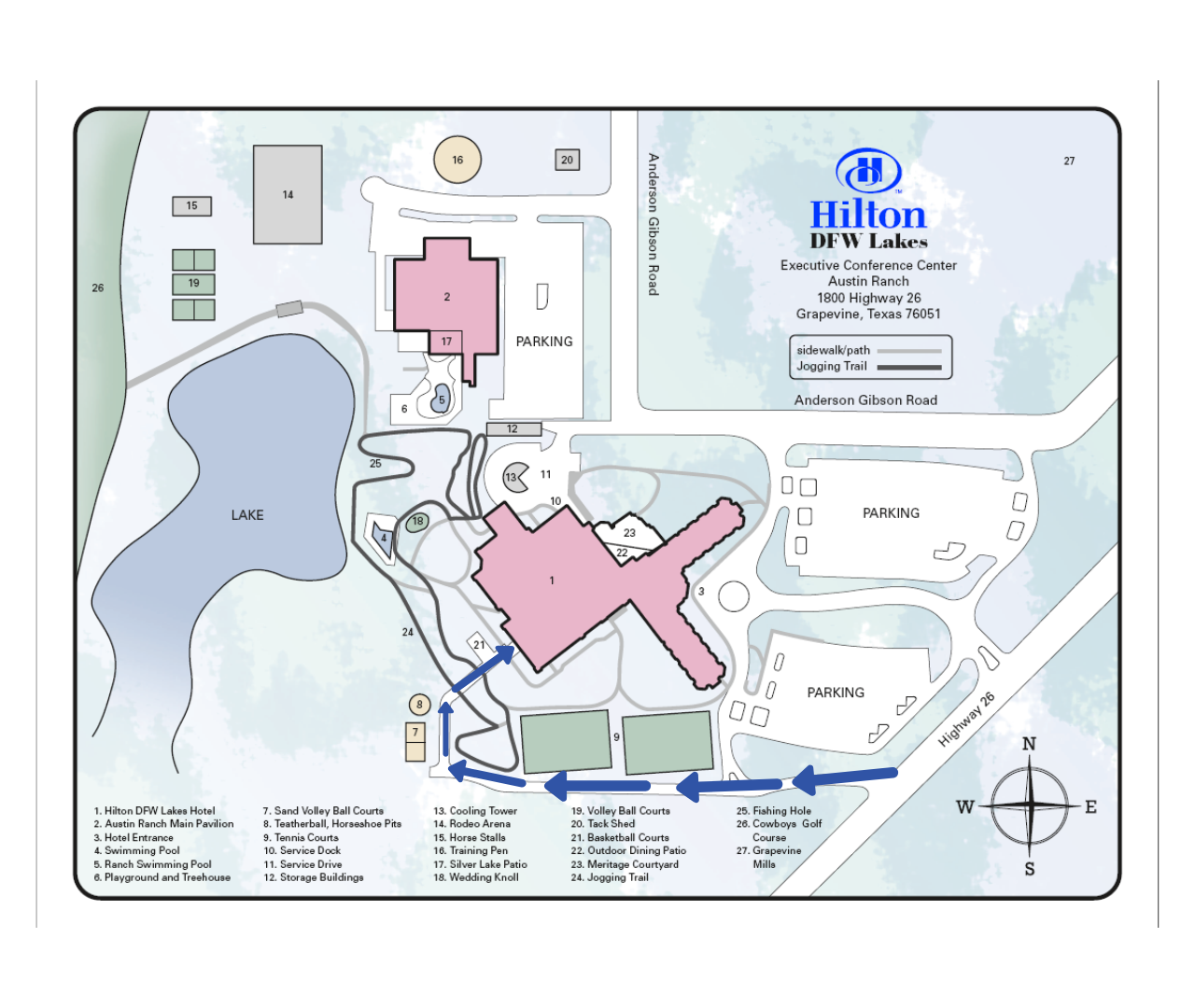 SHIPPING & CONFERENCE BAG INSERTS
Shipments to the Hilton DFW Lakes Executive Conference Center can be received beginning April 27, 2021. Packages will not be accepted any earlier than this date and the hotel will not hold them past May 3, 2021.
Sponsors will be responsible for any charges associated with the hotel handling boxes that come in or out the venue. Discounted pricing is provided at $7++/per box and $250 ++/per palette.
Sponsors bringing in items during the designated setup times via local transport and delivered directly to the Texas Grande will not be charged if the hotel is not in any way involved with the handling of these items.

Please use the address below for shipments to our conference venue:

Hilton DFW Lakes Executive Conference Center
1800 Highway 26E
Grapevine, TX 76051
HOLD for: (Name of sponsor's guest that will be retrieving the package)
(Sponsor Organization/Company Name)
YCP 2021 Conference
(Date the sponsor's guest will be arriving to pick up the package)

Conference Bag Inserts: Sponsors contributing items to go in conference bags must have packages arrive on April 27, 2021, or April 28, 2021, before 5:00 p.m. Items must be shipped separately from exhibit space items and addressed as follows:

Hilton DFW Lakes Executive Conference Center
1800 Highway 26E
Grapevine, TX 76051
HOLD for: Janine Hogan - Conference Bag Inserts
(Sponsor Organization/Company Name)
YCP 2021 Conference
Pick-up Date: 4/28/21
For any questions regarding shipment, please call 469-224-7919.
TRAVEL & HOTEL INFORMATION
To learn more about parking, airport shuttle information, and our special Hilton DFW Lakes discounted hotel room rate, please visit the Hotel tab on our conference website.
CONFERENCE VENUE & SCHEDULE
YCP's 2021 Conference will be hosted at the Hilton DFW Lakes Executive Conference Center, 1800 Highway 26E, Grapevine, TX 76051. Sponsor exhibits will be located within the Texas Grande on the Lower Level of the hotel. A map of the venue can be found here.
Full conference schedule can be found on the 2021 conference site.
The Hilton DFW Lakes provides complimentary breakfast with each hotel room reservation. Lunch and dinner will be provided on Saturday, May 1st. Refreshments and snacks will be available at all times throughout the weekend for all conference guests.

INTERVIEW ROOM & SCHEDULING
If your sponsorship package includes access to our interview room, you will be able to submit a request onsite to use the reserved space. Please note that this room may be shared with other sponsors. If you would like to reserve a private interview room, please email sponsorships@youngcatholicprofessionals.org to receive the information for our hotel contact that can assist with making arrangements for you.
Product to sell (if applicable)

Flyers & brochures

Pop-up or stand-up banners

Laptops, Ipads, monitors, etc. for video

Business cards

Sign-up sheets to gather contact information

Fun items to attract traffic - examples include:

Promotional freebies to give away

Photo booth and props

Raffle prizes

Decor to make your booth stand out
Learn more about the Young Catholic Professionals mission and where we have chapters on our website: www.youngcatholicprofessonals.org

Hear from our Members: Video