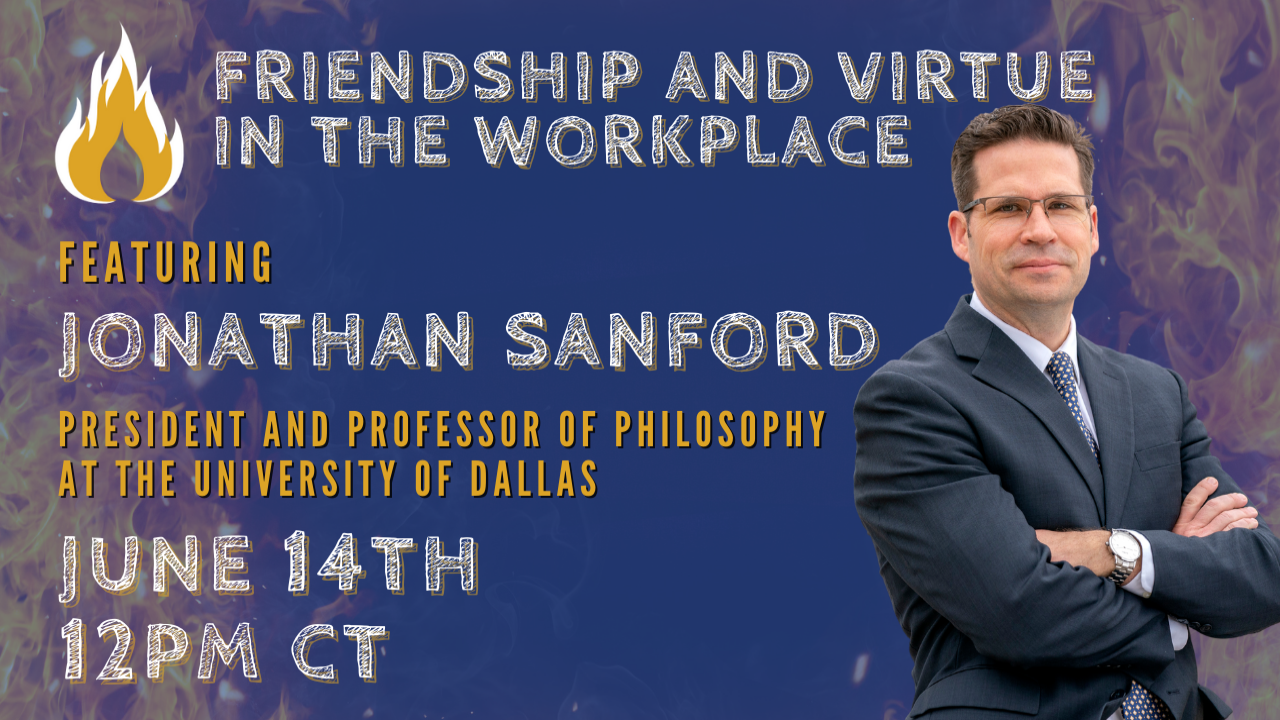 Refiner's Fire Episode 18: Friendship and Virtue in the Workplace will be LIVE on Tuesday, June 14th at 12pm CT with Dr. Jonathan Sanford, President & Professor of Philosophy at the University of Dallas.

About This Episode:
In this episode of Refiner's Fire, Dr. Jonathan Sanford will discuss friendship and virtue at work and how you can cultivate it in your own work setting and become better evangelists for Christ. You don't want to miss it!

More About Dr. Jonathan Sanford:
Dr. Jonathan Sanford is the President and a Professor of Philosophy at the University of Dallas. Sanford has published widely on philosophical figures and topics and has made significant contributions especially in foundational questions in moral philosophy, as evidenced in "Before Virtue: Assessing Contemporary Virtue Ethics" (The Catholic University of America Press 2015, paperback 2019) and "The Philosophical Legacy of Jorge J. E. Gracia" (Rowman & Littlefield 2022). Sanford is currently writing a book on virtue and education. He lectures widely to both scholarly and popular audiences on a variety of topics. For the past three years, on the third Monday of each month, he has hosted the "Good News at UD" portion of the Good News Show on Guadalupe Radio (KATH 910 AM). Sanford is a trustee of the Hildebrand Project, a member of the executive committee and the executive council of the American Catholic Philosophical Association, a member of the Dallas board of Legatus, a fellow of the Dallas Institute for Humanities and Culture, and a board member of the Fellowship of Catholic Scholars, and is active in several other professional and academic organizations. His wife, Rebecca, is a registered nurse and founding board member of Mighty Is Her Call, a Catholic mothers' ministry recognized by the Diocese of Dallas. The Sanfords, parishioners at St. Rita Catholic Church in Dallas, have nine children and two granddaughters, and live with their younger children in Irving, Texas.
Event schedule:
12:00pm CT: Welcome from your Host, YCP's Founder & Executive Director, Jennifer Baugh

12:02pm-12:20pm: Dynamic interview with Dr. Jonathan Sanford, led by Jennifer

12:20pm-12:28pm: Live Q&A from the audience

12:28pm-12:30pm: Closing remarks

RSVP below to receive instructions for how to join us LIVE! Don't forget that during the event you can submit questions in the comments for our speaker that will be asked during Q&A.
A recording of this month's interview will be made available in the online Member Portal Here after the event for Members.