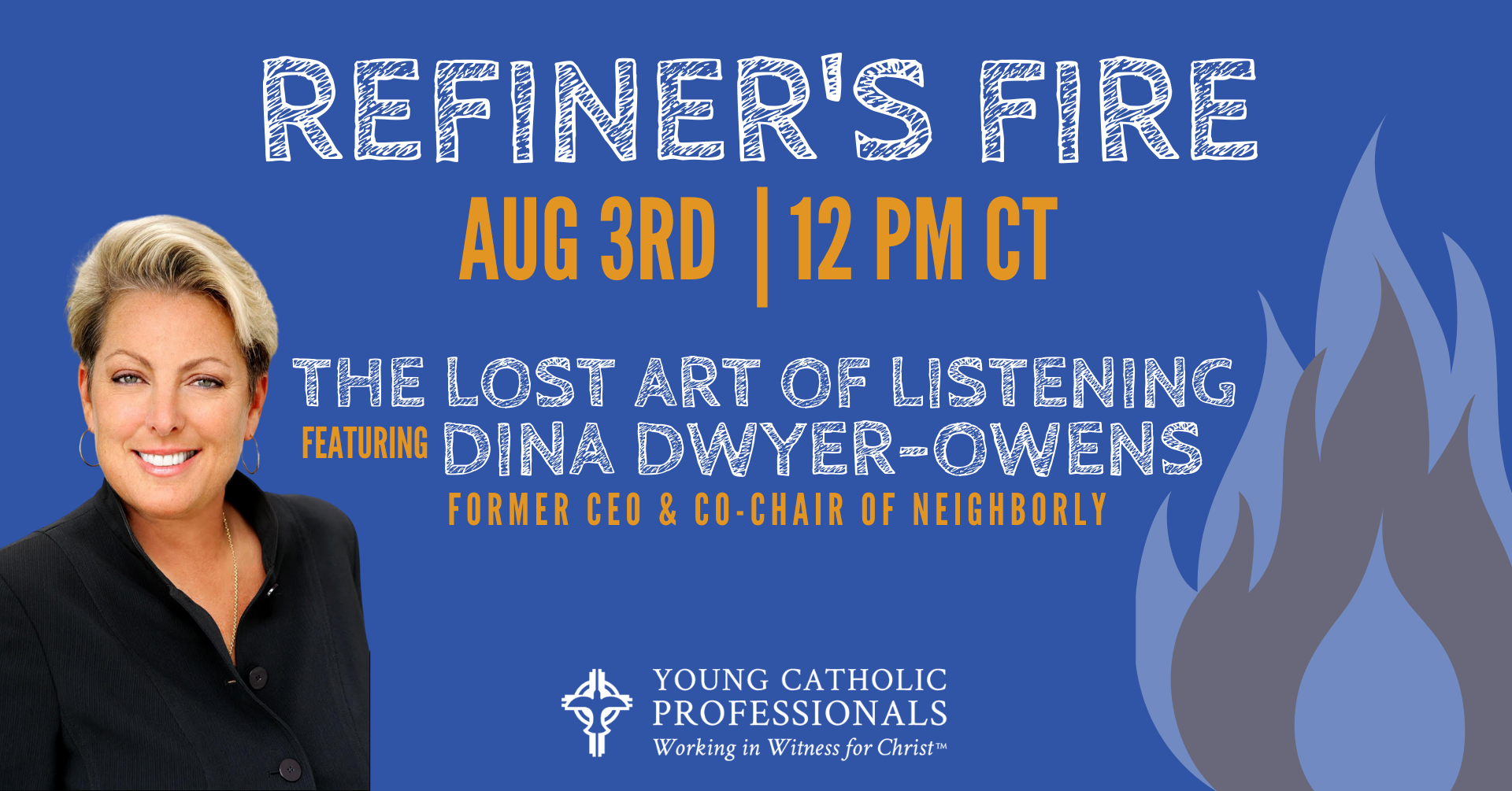 Refiner's Fire Episode 8: The Lost Art of Listening will be LIVE on Tuesday, August 3rd, at 12pm CT with Dina Dwyer-Owens, former CEO & Co-Chair of Neighborly.

In today's world, we tend to be very distracted and rushed, keeping our conversations and genuine human connections to a bare minimum - sometimes the most interaction we have is virtually on social media or video call. We excuse ourselves from making commitments or attending events by saying we are too busy, but are we? Or are we afraid of being vulnerable to others? Listening to others costs us emotional energy and it can feel safer to just be busy and not make connections.

Human connection is essential to our lives - we are made for communion and all around us people (or ourselves) are starving for the opportunity to be heard, acknowledged, and understood. Listening is also a critical skill in the workplace and any environment where personal interaction is required (so basically everywhere!). Listening with intention directly impacts your personal, spiritual, and professional life, and Dina Dwyer-Owens is here to tell you all about it.

Neighborly wouldn't be the world-wide company it is without the company values that Dina helped put in place. One of those critical values is "Listening with the intent to understand what is being said" and Dina is going to share with us how this and other values have transformed Neighborly.

About Dina Dwyer-Owens:
Dina is an acclaimed author and motivational speaker with more than 38 years of franchise leadership experience, including 15 years as CEO of Dwyer Group (now Neighborly), the global franchisor for which she also served as the organization's longest-serving Chairwoman and board member. In addition to serving as a chair of the International Franchise Association in 2010, she also spearheaded the reintroduction of the IFA's VetFran program in 2001, which now includes some 650 franchisors that offer franchising financial incentives to veterans of the U.S. Armed Forces. Dina is also known by the general public for participating in CBS's Emmy-winning hit reality show "Undercover Boss" in 2012. Dina is the author of two books: Live R.I.C.H. and Values, Inc. that both share her global message for living and leading with a proven code of values (books available for purchase at Values-INC.com).
Event schedule:
12:00pm CT: Welcome from your Host, Jennifer Baugh, YCP's Founder & National Executive Director

12:02pm-12:20pm: Dynamic interview with Dina, led by Jennifer

12:20pm-12:28pm: Live Q&A from the audience

12:28pm-12:30pm: Closing remarks

RSVP below to receive instructions for how to join us LIVE! Don't forget that during the event you can submit questions in the comments for our speaker that will be asked during Q&A.
A recording of this month's interview will be made available in the online Member Portal Here after the event for Members.