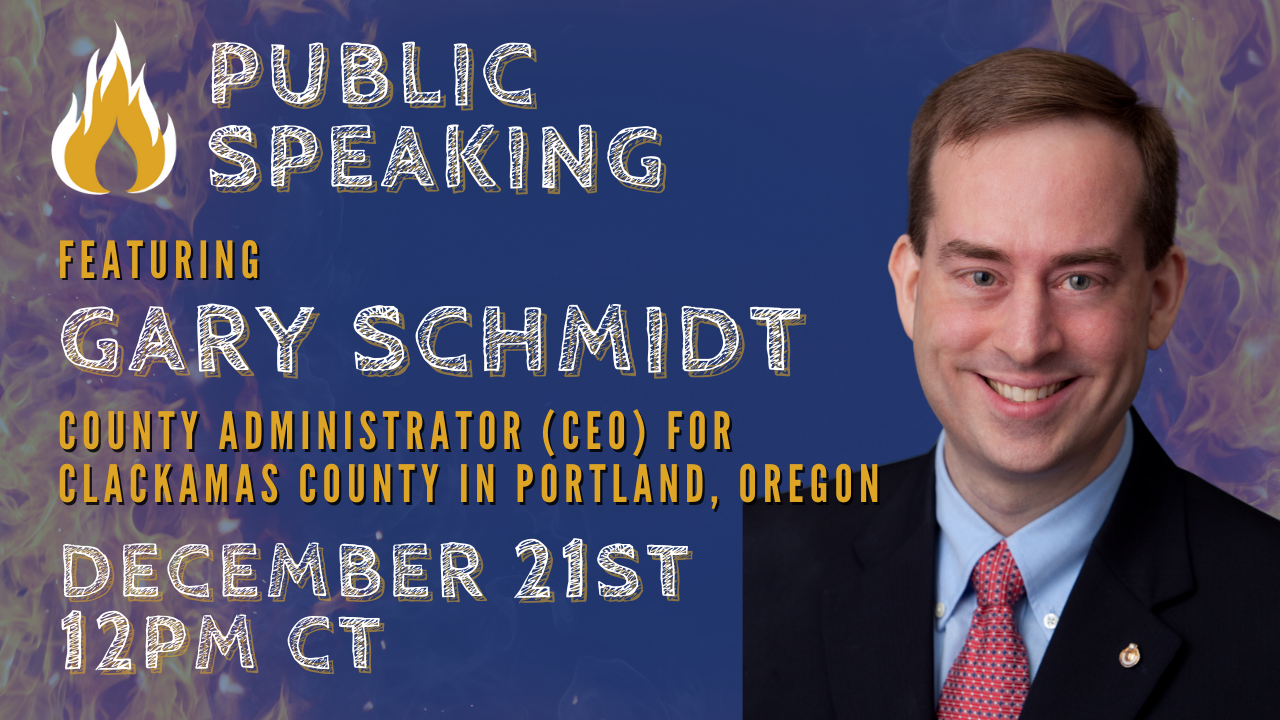 Refiner's Fire Episode 12: Public Speaking, will be LIVE on Tuesday, December 21st, at 12pm CT with Gary Schmidt, CEO for Clackamas County in the Portland-metropolitan area of Oregon. In a position like his, you have to be able to speak confidently in front of city-wide crowds and reporters, in-person and live on various news channels. During his career, Gary also served as Director of Public and Government Affairs and as a speechwriter and constituent services coordinator for two U.S. Senators.

Gary knows not only how to be an impactful public speaker, but also how to create and give a speech that someone like you and I would want to hear from someone holding a role as important as a government official. This is why Gary is going live with us on December 21st: public speaking has been the backbone of his career and he has many tips to share with us.

Oh, and did we mention he was a Toastmaster for 26 years and previously served as the International President of Toastmasters International?! Yep. He's that good! RSVP now and get your questions ready for Gary to answer during the Q&A portion of the interview.

About This Episode:
For many of us, standing up and speaking before an audience (or anyone) sounds like a nightmare. Public speaking skills can sometimes come naturally, but often it takes practice! St. John Chrysostom was known for his incredible oracle skills - the Greeks even called him "Chrysostomos," which means "Golden mouth" - but he needed 12 years of disciplined training to be confident and get the congregation to sit up and listen. Such skills are a great resume builder, but also a great kingdom builder that furthers your ability to Work in Witness.
Event schedule:
12:00pm CT: Welcome from your Host, YCP's VP, Peter Blute

12:02pm-12:20pm: Dynamic interview with Rob, led by Peter

12:20pm-12:28pm: Live Q&A from the audience

12:28pm-12:30pm: Closing remarks

RSVP below to receive instructions for how to join us LIVE! Don't forget that during the event you can submit questions in the comments for our speaker that will be asked during Q&A.
A recording of this month's interview will be made available in the online Member Portal Here after the event for Members.