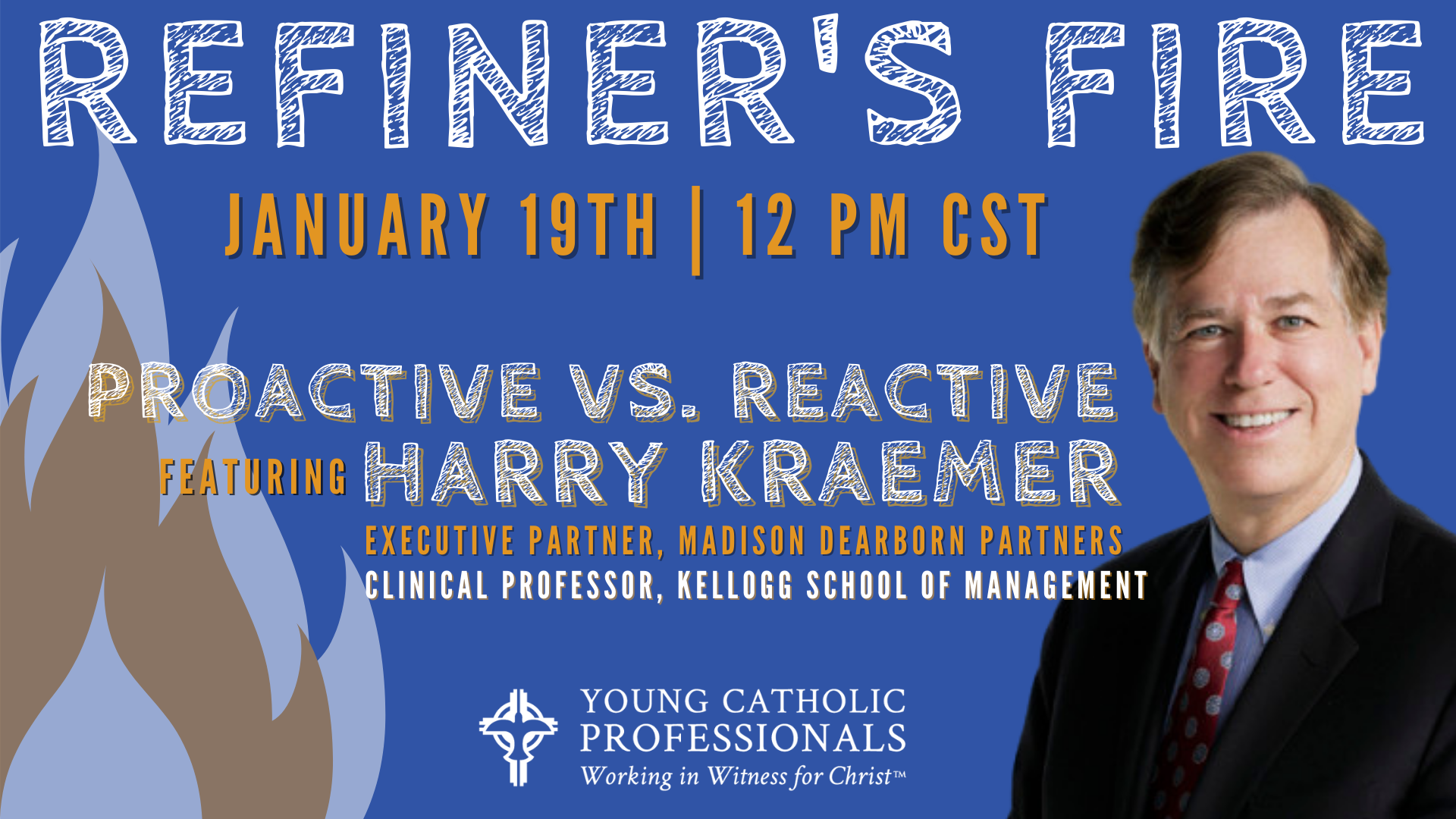 Join us Tuesday, January 19th at noon central for the kick-off of YCPs brand new virtual monthly micro-interview series: Refiner's Fire! Every month in 2021, experienced Catholic business leaders from diverse industries will share professional and spiritual wisdom in short, 30 minute live sessions. So grab your lunch or a cup of coffee, invite some co-workers to join you and enjoy these enriching conversations with a nationally known executive.
This month, tune in to hear Jennifer Baugh, YCP's Founder and Executive Director, interview Harry Kraemer, Executive Partner at Madison Dearborn Partners and Clinical Professor of Management and Strategy at Northwestern University's Kellogg School of Management, about being proactive vs. reactive at work (and in your personal life!).
At the end of your day, do you find that you haven't done anything on your original to-do list? Do you get caught up in emails, reviewing work, and coaching others, and feel like you're always drowning in meetings? Do you find that you spend too much time on other people's priorities that you are too exhausted to spend time on your own? If so, this interview is exactly what you need to start this year on the right foot.
RSVP below to receive instructions for how to join us LIVE! During the event you can submit questions in the comments for Harry that will be asked during Q&A.

About Harry: Harry is currently a private equity executive and business professor. He is the former Chairman and CEO of Baxter International, Inc., a $12 billion global healthcare company. He is also the author of two bestselling leadership books: "From Values to Action: The Four Principles of Values-Based Leadership" and "Becoming The Best: Build a World-Class Organization Through Values-Based Leadership." You may also remember him as a past keynote speaker at our our 2019 YCP Conference!
Event schedule:
12:00pm CST: Welcome from your Host, Jennifer Baugh

12:02-12:20pm: Dynamic interview with Harry Kraemer, led by Jennifer

12:20-12:28: Live Q&A from the audience

12:28-12:30: Closing remarks
Recordings of the Refiner's Fire interview will be made available to Members in the online Member Portal Here after the event.