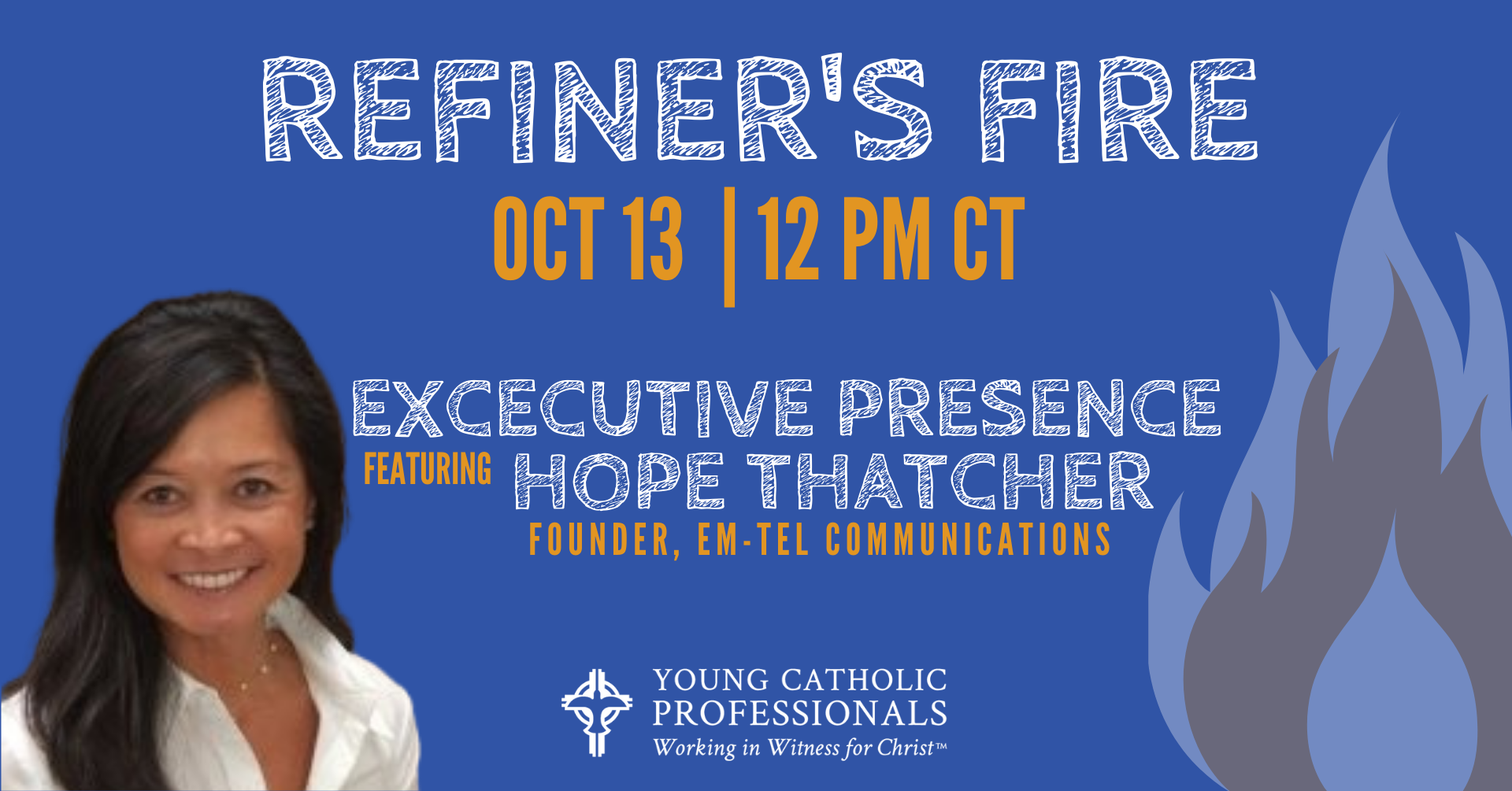 Refiner's Fire Episode 10: Executive Presence will be LIVE on Wednesday, October 13th, at 12pm CT with Hope Thatcher, Founder of Em-Tel Communications. Although she was a top producing National Account Executive with WorldCom, Hope desired a job that would allow her to spend more time with her growing family so she took the entrepreneur route and started Em-Tel. Her company is thriving with clients that include many Georgia Fortune 500 companies and a reputation for professional integrity, unparalleled responsiveness and accountability, and industry foresight.

Hope worked hard and prayed hard to get to where she is today and that journey has led her to be a confident leader with a company that offers unmatched superior service in the telecom industry. The executive presence she exudes has led to strong and lasting vendor partnerships and relationships across many different telecom specialties. Hope is excited to join us to share how we too can develop an authentic executive presence as we progress through our careers.

About This Episode:
Keeping ourselves in the presence of God is not a surface-level feeling or appearance. Rather, Brother Lawrence tells us that God "paints Himself in the depths of our soul"; so that sense of presence actually requires getting in touch with a deeper reality. Similarly, executive presence is not some kind of act that we try to "put on" for others. Executive presence is much more powerful when it is a confidence we exude as the natural result of having done the work of developing our skills and adding real value.

More About Hope:
Hope founded Em-tel on the clear belief that the customer should always come first. She believes that businesses deserve the opportunity to find the best-fit telecom solutions, regardless of carrier, without the hassle of dealing with multiple sales reps who come and go.

Hope has relationships across different telecom specialties - from hardware to network services. The strong and lasting vendor partnerships she developed allowed her to assist customers across various initiatives, including, but not limited to, wide area network solutions, bill auditing, and collaboration. Over the last several years, Hope has been supporting DR requirements for data centers, and assisting in the evaluation and choosing of MPLS providers to support an IP converged environment.

Hope is proud of the quality customer care and multiple-carrier solutions Em-tel offers enterprises.

Hope says that "taking the entrepreneur route was the best decision for me and my family', which includes her husband, Mark, and 2 daughters, Esperanza (EM), and Nikki.
Event schedule:
12:00pm CT: Welcome from your Host, YCP's National Vice President, Peter Blute

12:02pm-12:20pm: Dynamic interview with Bob, led by Peter

12:20pm-12:28pm: Live Q&A from the audience

12:28pm-12:30pm: Closing remarks

RSVP below to receive instructions for how to join us LIVE! Don't forget that during the event you can submit questions in the comments for our speaker that will be asked during Q&A.
A recording of this month's interview will be made available in the online Member Portal Here after the event for Members.