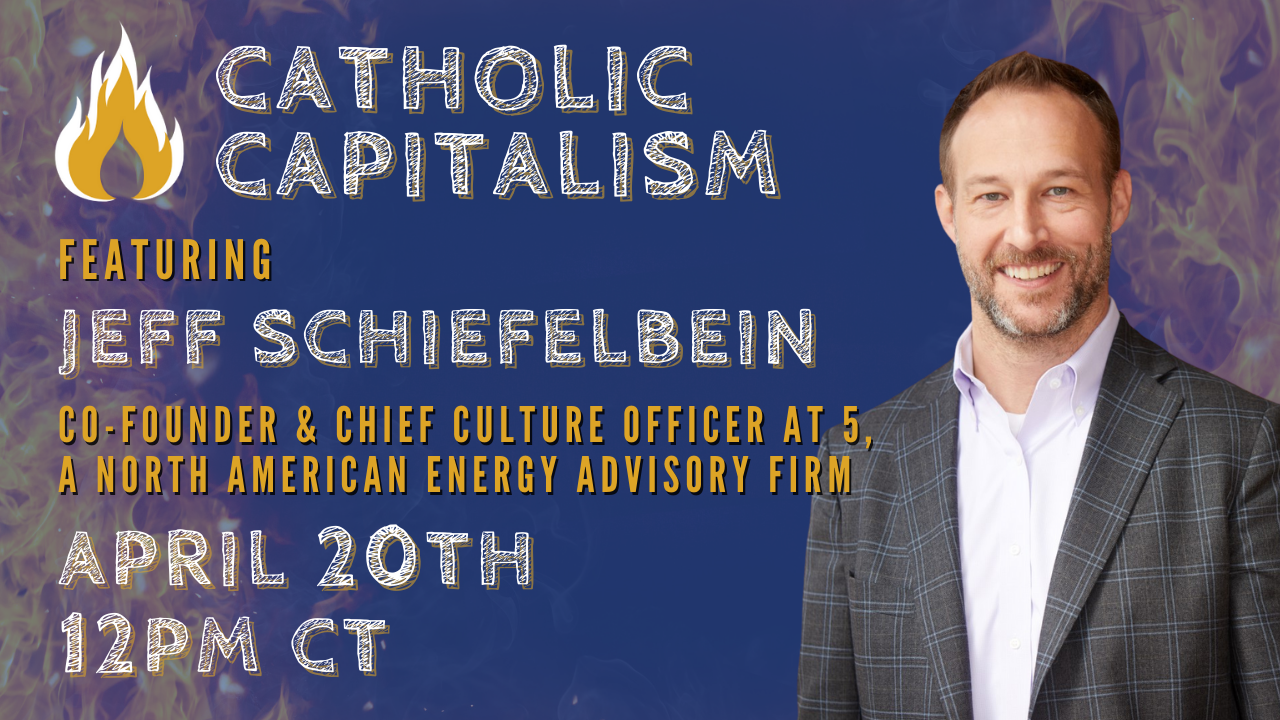 Refiner's Fire Episode 16: Catholic Capitalism will be LIVE on Wednesday, April 20th at 12pm CT with Jeff Schiefelbein, Co-Founder and Chief Culture Officer at 5. Jeff serves as the Co-Founder and Chief Culture Officer at 5, a North American energy advisory firm and has received numerous accolades including five consecutive appearances on the Inc 5000 and dozens of best places to work awards.

About This Episode:
In this episode of Refiner's Fire, Jeff Schiefelbein will explore how the social teachings of the Catholic Church serve as the roadmap and the secret ingredients to success. Participants will be asked to examine their own leadership journeys, embody the Church's teachings around common good, subsidiarity, subsidiarity, human justice, and more.You don't want to miss it!

More About Jeff:
Jeff earned a bachelor's degree in business administration from Texas A&M University with a focus on entrepreneurship. During college, Jeff developed and launched the nation's largest college safe-ride program to reduce drunk driving, CARPOOL. For his work on this project, Jeff was awarded the National Daily Point of Light Award and the Texas Governor's Volunteer Service Award. Jeff serves as the President of the Board of Trustees for The Highlands School in Irving, Texas, and as a Trustees for The Catholic Foundation. He is also a motivational speaker and the host of a Catholic radio show on the Guadalupe Radio Network. Jeff lives in Irving, Texas with his wife and five kids.

Event schedule:
12:00pm CT: Welcome from your Host, YCP's Founder & Executive Director, Jennifer Baugh

12:02pm-12:20pm: Dynamic interview with Jeff, led by Jennifer

12:20pm-12:28pm: Live Q&A from the audience

12:28pm-12:30pm: Closing remarks

RSVP below to receive instructions for how to join us LIVE! Don't forget that during the event you can submit questions in the comments for our speaker that will be asked during Q&A.
A recording of this month's interview will be made available in the online Member Portal Here after the event for Members.