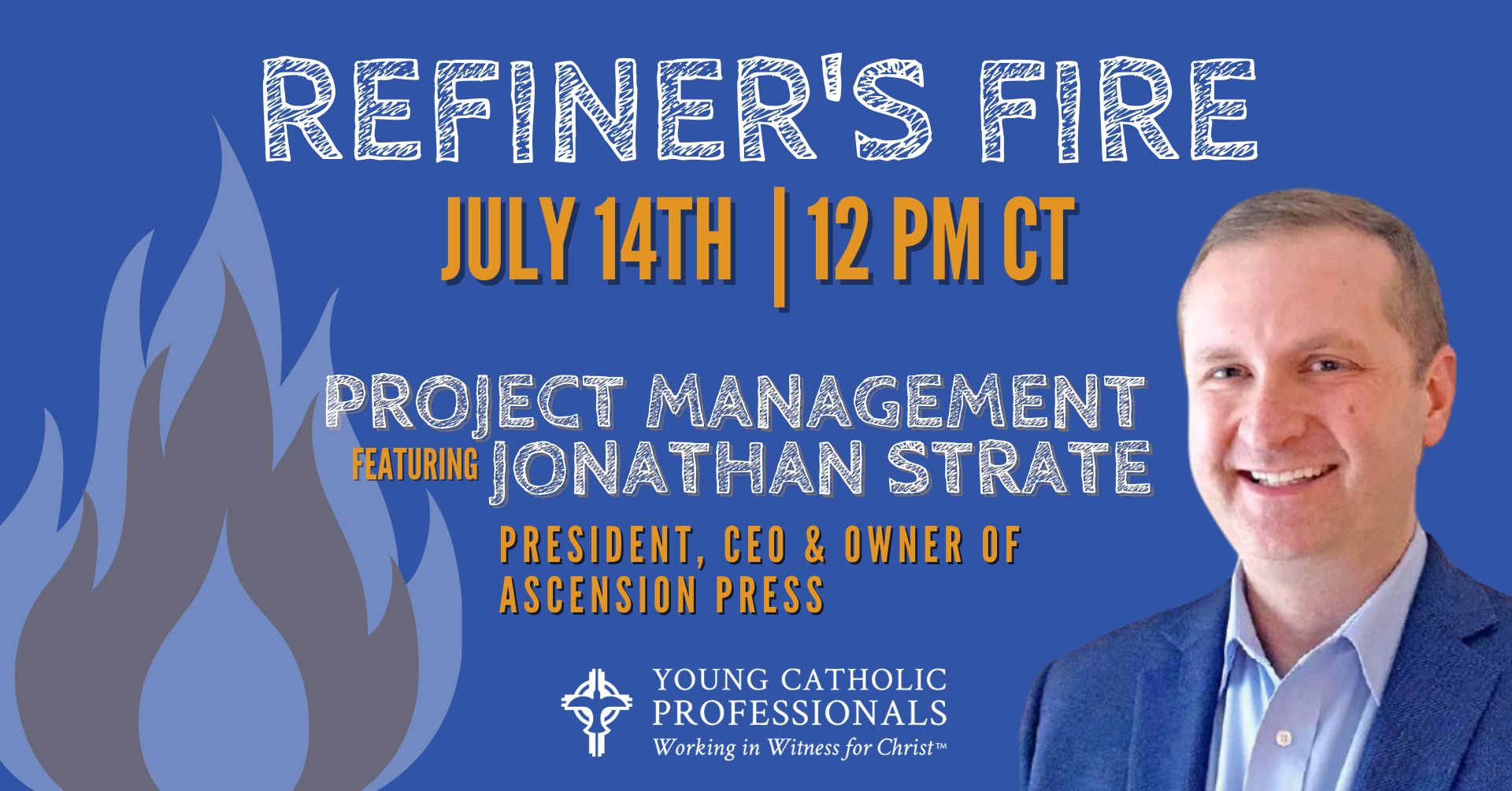 Refiner's Fire Episode 7: Project Management will be LIVE on Tuesday, July 14, at 12pm CT with Jonathan Strate, President, CEO & Owner of Ascension Press, The Faith Formation Leader. Throughout his career with Ascension Press and in his previous role of Chief Operating Officer, Jonathan was responsible for rebranding the company, restructuring its operating model, and opening up production for a host of innovative, enormously successful products like The Great Adventure® Catholic Bible and the growth of the Ascension Presents media network, which boasts hundreds of millions of views and downloads across its incredibly popular media channels. Jonathan has a history of managing many projects and executing them efficiently and successfully, so he is here to share his expertise with our YCP network.

Why do project management skills matter for the everyday worker? How can key project components such as conceptualizing, planning, executing and quality control benefit more than just your career? Learn how management skills can apply to your spiritual life and transform the way you fit prayer into your busy schedule.

More About Jonathan Strate:
Jonathan first joined the Ascension team in 2014 as the Director of Technology, overseeing the development of the company's ecommerce, digital delivery platforms, and various technological systems.

Jonathan's efforts after he became COO in 2017 yielded a remarkable increase in company revenue for FY 2018 and FY 2019, and enabled the company to remain financially stable amid the challenges of the 2020 pandemic.

When he purchased the company in January 2021, Jonathan's stated goal was to continue serving Catholics as their "faithful collaborator" in faith formation.

Prior to Ascension, Jonathan spent 10 yrs. in the aerospace industry, developing software solutions for customers such as the United States' Joint Space Operations Center. His work in software development and Lean Six Sigma was published in several prestigious academic journals.

Jonathan is a devoted Catholic husband, father, and parishioner. He was the founding Director of the Catholic Young Adults of Chester County, for which he earned the Bl. Frassati Award from the Archdiocese of Philadelphia in 2010.

He is a member of the Knights of Columbus, as well as the Knights of the Immaculata.
Event schedule:
12:00pm CT: Welcome from your Host, YCP's National Executive Director, Jennifer Baugh

12:02pm-12:20pm: Dynamic interview with Jonathan Strate, led by Jennifer

12:20pm-12:28pm: Live Q&A from the audience

12:28pm-12:30pm: Closing remarks

RSVP below to receive instructions for how to join us LIVE! Don't forget that during the event you can submit questions in the comments for our speaker that will be asked during Q&A.
Recordings of the Refiner's Fire interview will be made available to Members in the online Member Portal Here after the event.