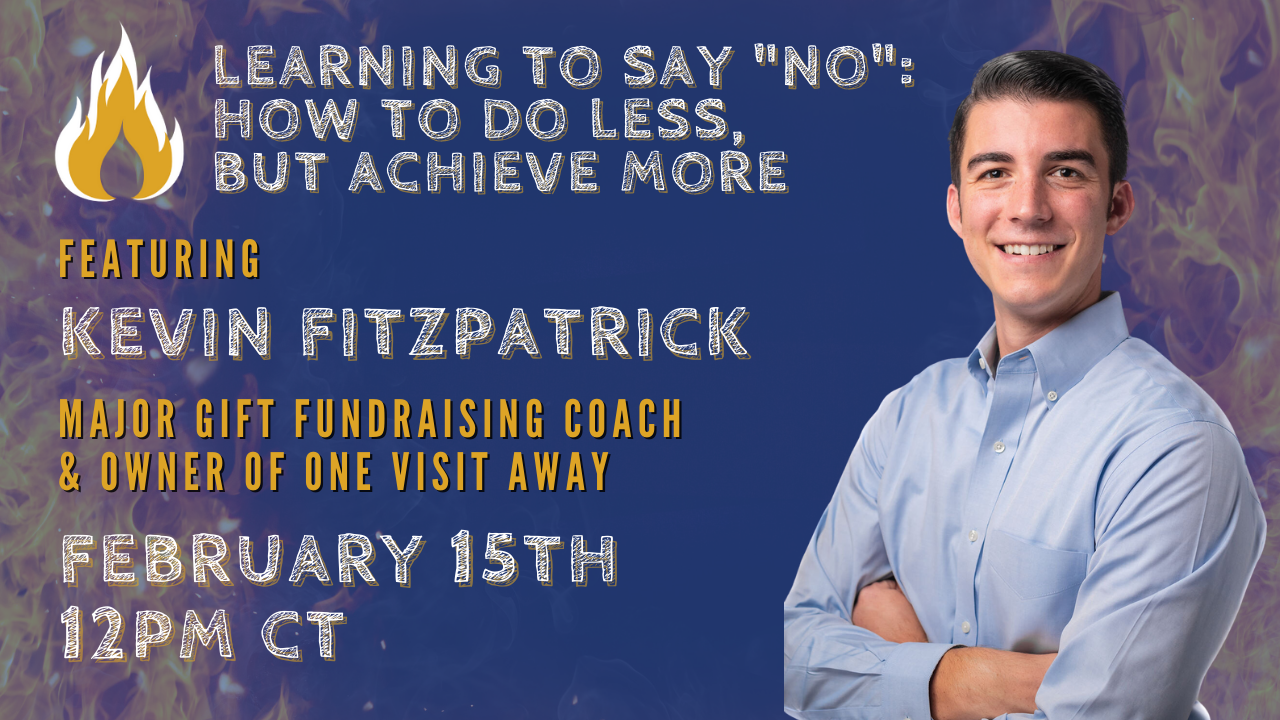 Refiner's Fire Episode 14: Learning to Say "No": How to do Less but Achieve More will be LIVE on Tuesday, February 15th at 12pm CT with Kevin Fitzpatrick, Major Gift Fundraising Coach & Owner of One Visit Away, a consulting business helping leaders of nonprofits with major gift fundraising. Most of his time is spent primarily with CEO's of Catholic and Pro-Life organizations across the U.S. Additionally, he hosts the One Visit Away podcast with consistently ranks as one of the top fundraising podcasts in the country.
Kevin began his career working in major gifts at Heroic Media, a Texas based Pro-Life organization. During his time there he went on over 1,000 visits with donors, raised over $5 Million in major gifts, and developed the system he now uses to train other nonprofits how to consistently close 5, 6, and 7-figure gifts to grow their missions. Kevin knows how to spend his time wisely and how to discern which invitation and which meeting is most worth his time and energy to be successful, which is why he is here to speak with us on Refiner's Fire!

About This Episode:
These days, many of us feel like we have to say "yes" to every opportunity that is placed in front of us. Usually this comes from some feeling of F.O.M.O. (fear of missing out) or not wanting to make the other person feel bad by refusing an invitation or activity. Ultimately, until you can learn to say "no" to many of these things (which aren't bad in and of themselves), you're going to have a tough time really moving the needle and being successful at your job or meeting goals. Not only that, but you'll be left exhausted and stressed out! Learn how saying "no" can enable you to say "yes" to much more effective opportunities and initiatives.

Event schedule:
12:00pm CT: Welcome from your Host, YCP's Founder & Executive Director, Jennifer Baugh

12:02pm-12:20pm: Dynamic interview with Kevin, led by Jennifer

12:20pm-12:28pm: Live Q&A from the audience

12:28pm-12:30pm: Closing remarks

RSVP below to receive instructions for how to join us LIVE! Don't forget that during the event you can submit questions in the comments for our speaker that will be asked during Q&A.
A recording of this month's interview will be made available in the online Member Portal Here after the event for Members.