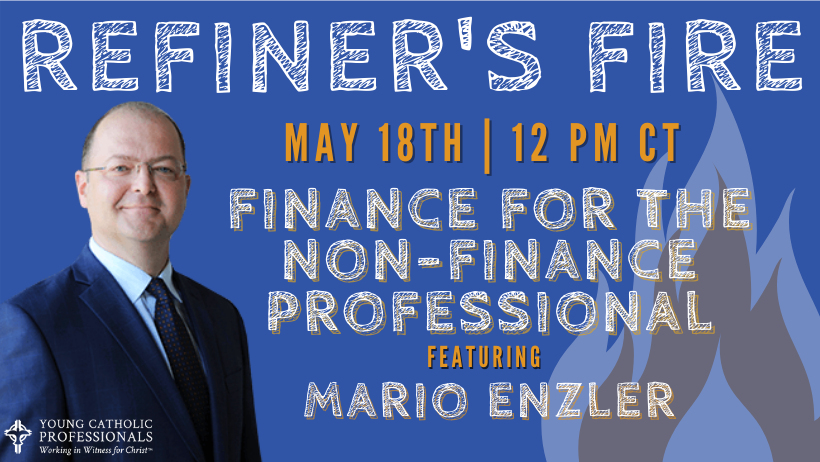 Refiner's Fire Episode 5: Finance for The Non-Finance Professional will be LIVE on Tuesday, May 18th, at 12pm CT with Mario Enzler, Dean of The Cameron School of Business at the University of St. Thomas. Since we can't all work in finance, as a former Swiss Banker and Tax Lawyer (and a former musician and Swiss Guard by the way!), Mario is equipped to share in an easily digestible way the important financial things we all need to know.

Finance is critical to the success and health of the company you work for, so in order to support your company, you should learn how to read financial statements. By understanding finance, you can determine what you need to do to best contribute to the success of your business and the value you and other components of the company have. In our lives we also need to learn how to properly value things such as time, family and faith. We need to be able to sit down and examine and review honestly how much is allocated where and maybe adjust.

About Mario Enzler:
Instead of introducing authentic gelato to the New England area like he originally hoped, he and his wife founded a classical-curriculum academy in New Hampshire after finding inadequate educational options for their 5 children upon their arrival from Europe in 2010.

In 2016 he joined the faculty at Catholic University in Washington, DC, and since August 2020 he has been the Dean of the Cameron School of Business at the University of St. Thomas in Houston, TX.

You can often find Mario leading workshops or speaking at conferences where he shares about the role Pope St. John Paul II and St. Mother Teresa had in helping him become a better man, executive, teacher, leader, but most of all, a practicing Catholic.

Mario's last book is "I Served a Saint" with Newman House Press about his experience serving Pope St. John Paul II while he was a Swiss Guard (see picture below)!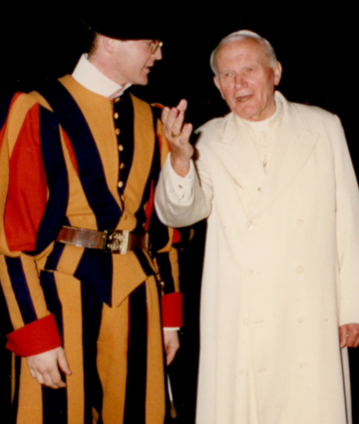 Event schedule:
12:00pm CT: Welcome from your Host, YCP Staff Member

12:02pm-12:20pm: Dynamic interview with Mario Enzler, led by YCP Staff

12:20pm-12:28pm: Live Q&A from the audience

12:28pm-12:30pm: Closing remarks
RSVP below to receive instructions for how to join us LIVE! Don't forget that during the event you can submit questions in the comments for our speaker that will be asked during Q&A.
Recordings of the Refiner's Fire interview will be made available to Members in the online Member Portal Here after the event.