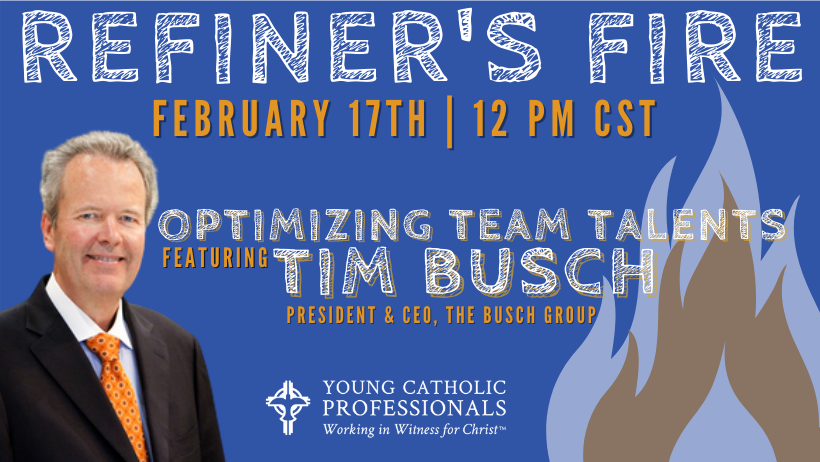 Join us Wednesday, February 17th, at noon central for episode 2 of YCP's brand new virtual monthly micro-interview series: Refiner's Fire! Every month in 2021, experienced Catholic business leaders from diverse industries will share professional and spiritual wisdom in short, 30-minute live sessions. So grab your lunch or a cup of coffee, invite some co-workers to join you, and enjoy these enriching conversations with a nationally known executive.
This month, we have the unique pleasure of having experienced litigator, appellate advocate, educator, and YCP National Board Member, Heather Lachenauer, interview Tim Busch, President & CEO of The Busch Group, about Optimizing Team Talents:
Developing the talents of your team provides leadership bench strength and an ample talent pool for succession planning and promoting from within. Performance and engagement will improve when the needs and goals of your teammates are aligned with development efforts. An awareness of your God-given strengths and how you can grow is also important for the Kingdom and your own sanctification. When you fulfill God's Will, you are the best version of yourself, which brings out the best in others too. As St. Catherine of Siena said, "Be who God made you to be, and you will set the world ablaze."
About Tim: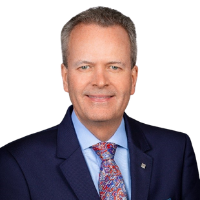 From practicing law and real estate to founding Catholic schools and wineries, Tim Busch has done it all.
Tim has been an attorney in O.C. for over 35 years and is the Founder of The Busch Firm, which specializes in tax and corporate law and the representation of religious organizations. He also has affiliations in private operating and real estate companies such as Pacific Hospitality Group and The Meritage Collection. Other highlights to Tim's many accomplishments include the title of Co-Founder of the Napa Institute, Magis Institute, and Napa Legal Institute and Grandfather to 7 little ones.
About Heather: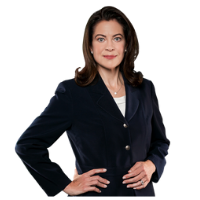 Heather has successfully represented international companies, federal agencies, financial institutions, businesses, and individuals throughout her career. She's advocated on behalf of clients in a variety of pro bono matters involving asylum, the death penalty, and religious liberty. She's taught political science, rhetoric, and poetics and aesthetics as an adjunct professor and is a former member of the Board of Regents of St. John Paul the Great Catholic University. Heather is also the co-founder of Epiphany Prep Charter School dedicated to low-income communities in San Diego, and currently sits as General Counsel for the University of Dallas.
Event schedule:
12:00pm CST: Welcome from your Host, Heather Lachenauer

12:02-12:20pm: Dynamic interview with Tim Busch, led by Heather

12:20-12:28: Live Q&A from the audience

12:28-12:30: Closing remarks
RSVP below to receive instructions for how to join us LIVE! During the event you can submit questions in the comments for Tim that will be asked during Q&A.
Recordings of the Refiner's Fire interview will be made available to Members in the online Member Portal Here after the event.