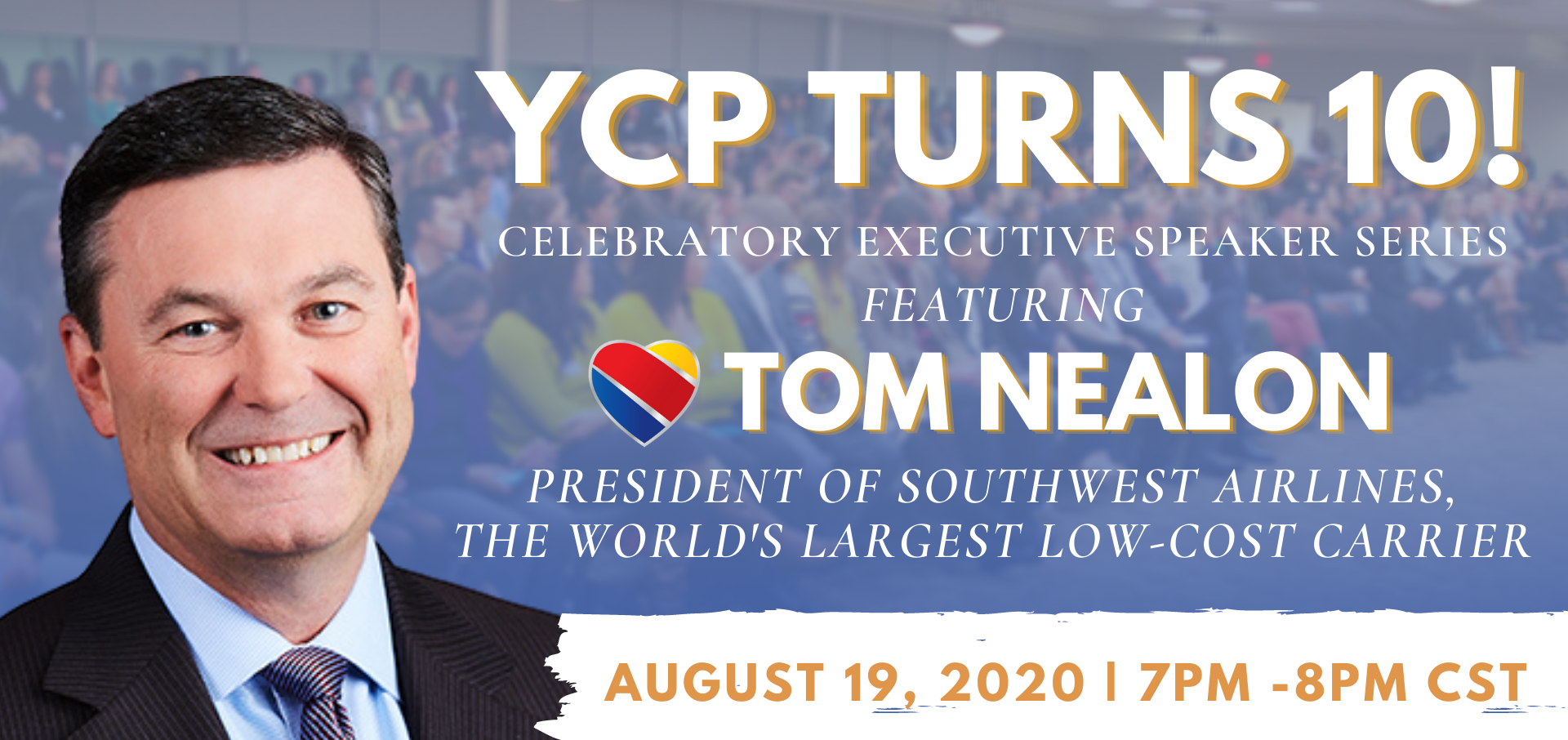 Happy anniversary YCP! Celebrate 10 years of Working in Witness for Christ™ on Wednesday, August 19th at 7pm CST (5pm PST/ 8pm EST) by joining us for a free virtual Executive Speaker Series featuring Tom Nealon, President of Southwest Airlines, the world's largest low-cost carrier.
Tune in to hear Jennifer Baugh, YCP's Founder and Executive Director, interview Tom about how to live out your Catholic faith while leading a Fortune 500 company. Look back with us on how far YCP has come, receive advice from both Tom and Jennifer on growing a business, and more.
RSVP below to receive instructions for how to join us LIVE prior to the event. We look forward to toasting to an incredible decade with you!
About Tom:
Tom has served as President of Southwest Airlines since 2017.

He previously served as Executive VP Strategy & Innovation, Senior VP and Chief Information Officer and Director on the Southwest Board.

As President, Tom is responsible for the Commercial (including Revenue, Network, Corporate Sales and Customer Relations/Rapid Rewards), Finance, Technology, Marketing, and Internal Audit Departments.

Tom has also held Executive Leadership positions at JCPenney, Inc. and Frito-Lay, Inc.

He was inducted in the CIO Hall of Fame in 2012, and was awarded an honorary degree of Doctor of Humane Letters from the University of Dallas in 2018.

Tom and his wife, Shannon, are parents to three children: Jessica, Tommy, and Annie.
Event schedule:
7:00pm: Welcome from your Host, Jennifer Baugh, YCP's Founder & Executive Director

7:10pm: Fireside Chat with Tom Nealon, President of Southwest Airlines, Led by Jennifer

7:40pm: Q&A with Tom Nealon. Ask Questions of a Fortune 500 Executive!

7:50pm: Learn More About What's NEW With YCP Membership

7:55pm: Closing and Prayer to St. Joseph the Worker