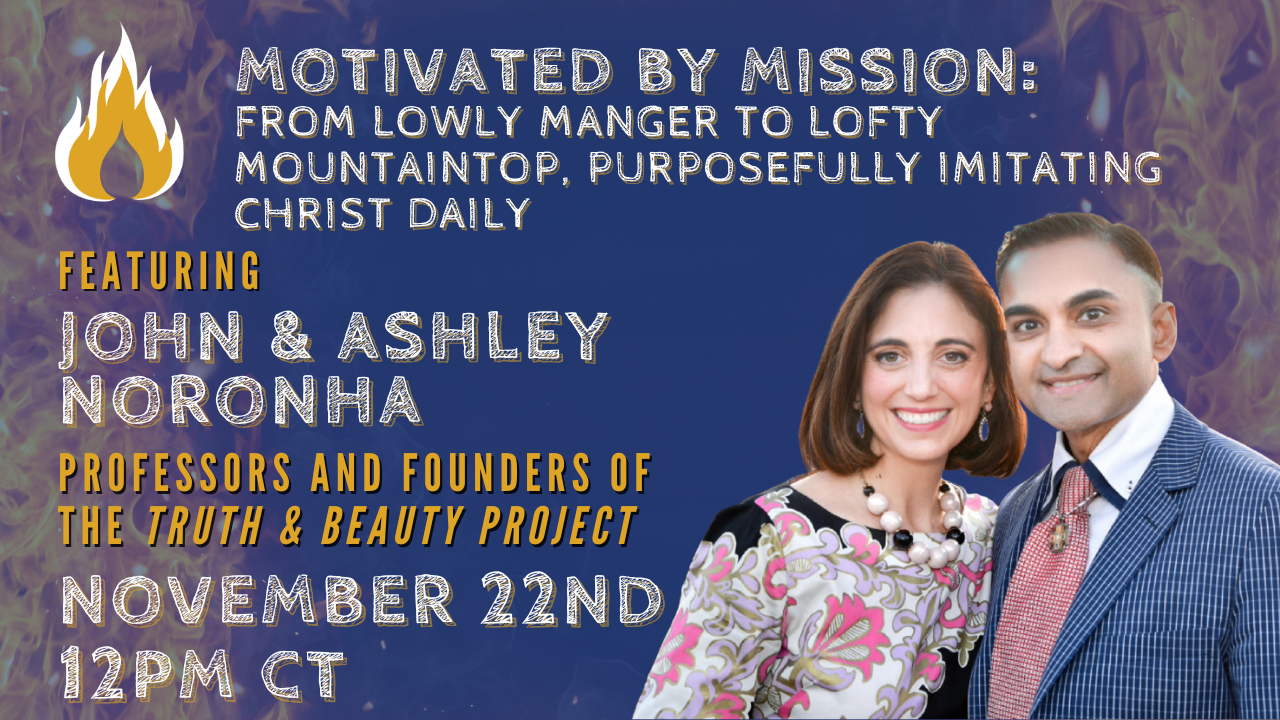 Refiner's Fire Episode 23: Motivated by Mission: From Lowly Manager to Lofty Mountaintop, Purposefully Imitating Christ Daily will be LIVE on Tuesday, November 22nd at 12pm CT with John & Ashley Noronha, Professors and Founders of The Truth & Beauty Project.

About This Episode:
John and Ashley will discuss what their personal mission is, why you should think about your own and how to align it with Christ. You don't want to miss it!

More About John & Ashley:
John & Ashley Noronha [sounds like Corona] live in Rome, Italy and love sharing the truths of the faith through beauty. They are professors at pontifical universities, speakers, and media personalities, and are dedicated to helping people uncover God's beautiful liturgical messages that are hidden in the ordinary. They are the recipients of the Springtime of Faith Award for Outstanding work in the New Evangelization.
In 2017 John and Ashley used their diverse academic and cultural expertise to found the Truth & Beauty Project. Through week-long intensive experiences in Rome, the Truth & Beauty Project helps renew people's faith with a deep dive into exploring Christian roots, culture, and identity - using art, scripture and beauty to show what it means to live an authentic Christian life with joy.
Ashley's a media personality and for the past 10 years, the Rome Correspondent for the Relevant Radio Catholic Network. She was the host and anchor of a weekly television news show in Rome, a Vatican Official at the Pontifical Council for Social Communications, and has been featured on various global TV news networks as an expert on Vatican issues. She's a Professor at the Pontifical University of the Holy Cross and teaches her course "Media Training for Priests" to priests and seminarians in Rome at the North American College (NAC) and to clients all over the world. She serves as a communications consultant in Conflict Resolution, Crisis Communications, Public Speaking and Media Training for CEOs, public figures, authors, musicians, film-makers, and religious leaders on four continents. She is currently developing a course in partnership with the USCCB, for priests and seminarians to handle tough communication situations. She was formerly an executive in lifestyle marketing for Kraft Foods, Discover Card, JCPenney, 3Com, and Universal Pictures.
John's a pontifical Professor of Sacred Art & Architecture, Theology, and Technology. He has worked as a Papal Consultor at the Holy See, and has a diverse cultural and academic background, with degrees also in Electronics and Telecommunications Engineering and in Computer Engineering and Information Systems. John was formerly a TV Producer and before that, a Corporate Executive in the telecommunications industry, leading the Technology and Initiatives Group at Verizon Global Telecommunications, before doing a Master's in Philosophy and Theology and moving to Rome for his doctorate in Bioethics. John was also a professional tap dancer and John and Ashley love to cut a rug! Swing is their favorite.
Event schedule:
12:00pm CT: Welcome from your Host, YCP's Director of Development, Joe Griesbauer

12:02pm-12:20pm: Dynamic interview with John & Ashley, led by Joe

12:20pm-12:28pm: Live Q&A from the audience

12:28pm-12:30pm: Closing remarks

RSVP below to receive instructions for how to join us LIVE! Don't forget that during the event you can submit questions in the comments for our speakers that will be asked during Q&A.
A recording of this month's interview will be made available in the online Member Portal Here after the event for Members.