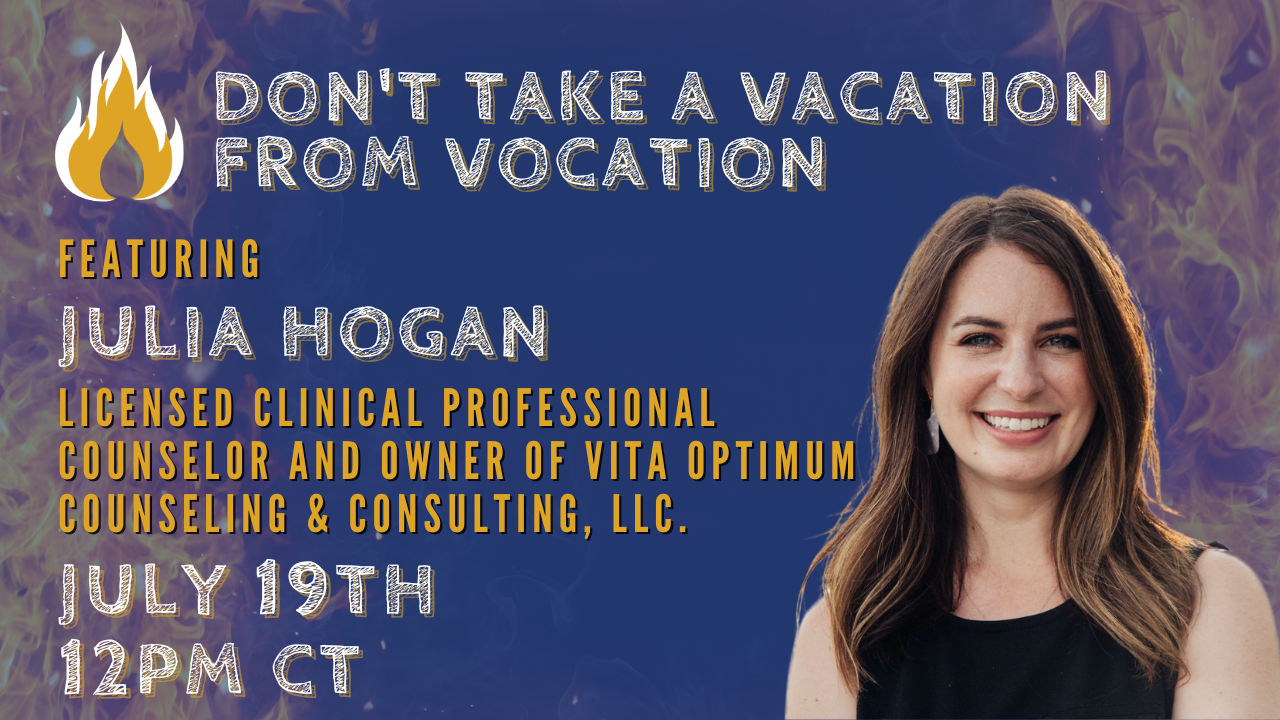 Refiner's Fire Episode 19: Don't Take A Vacation From Vocation will be LIVE on Tuesday, July 19th at 12pm CT with Julia Hogan, Licensed Clinical Professional Counselor and Owner of Vita Optimum Counseling & Consulting, LLC.

About This Episode:
In this episode of Refiner's Fire, Julia will talk about how faulty expectations can prevent us from living out our vocation both at work and in our personal life. Tune in to hear how you can live out your vocation to the fullest!

More About Julia Hogan:
Julia Hogan-Werner is a Licensed Clinical Professional Counselor in Chicago and owner of Vita Optimum Counseling & Consulting, LLC. She attended the Institute for the Psychological Sciences for her graduate degree and has spoken at Deloitte, Notre Dame University, and Metro Achievement Center for Girls. She leads workshops and writes on topics related to self-care, relationships and mental health. Her book, It's Ok to Start with You is all about the power of embracing your authentic self through self-care. Her second book, A Work in Progress: Embracing the Life God Gave You, is about finding purpose in everyday life. She is passionate about empowering individuals to be their most authentic selves. You can find more of her work online at juliamariehogan.com.
Event schedule:
12:00pm CT: Welcome from your Host, YCP's Founder & Executive Director, Jennifer Baugh

12:02pm-12:20pm: Dynamic interview with Julia Hogan, led by Jennifer

12:20pm-12:28pm: Live Q&A from the audience

12:28pm-12:30pm: Closing remarks

RSVP below to receive instructions for how to join us LIVE! Don't forget that during the event you can submit questions in the comments for our speaker that will be asked during Q&A.
A recording of this month's interview will be made available in the online Member Portal Here after the event for Members.