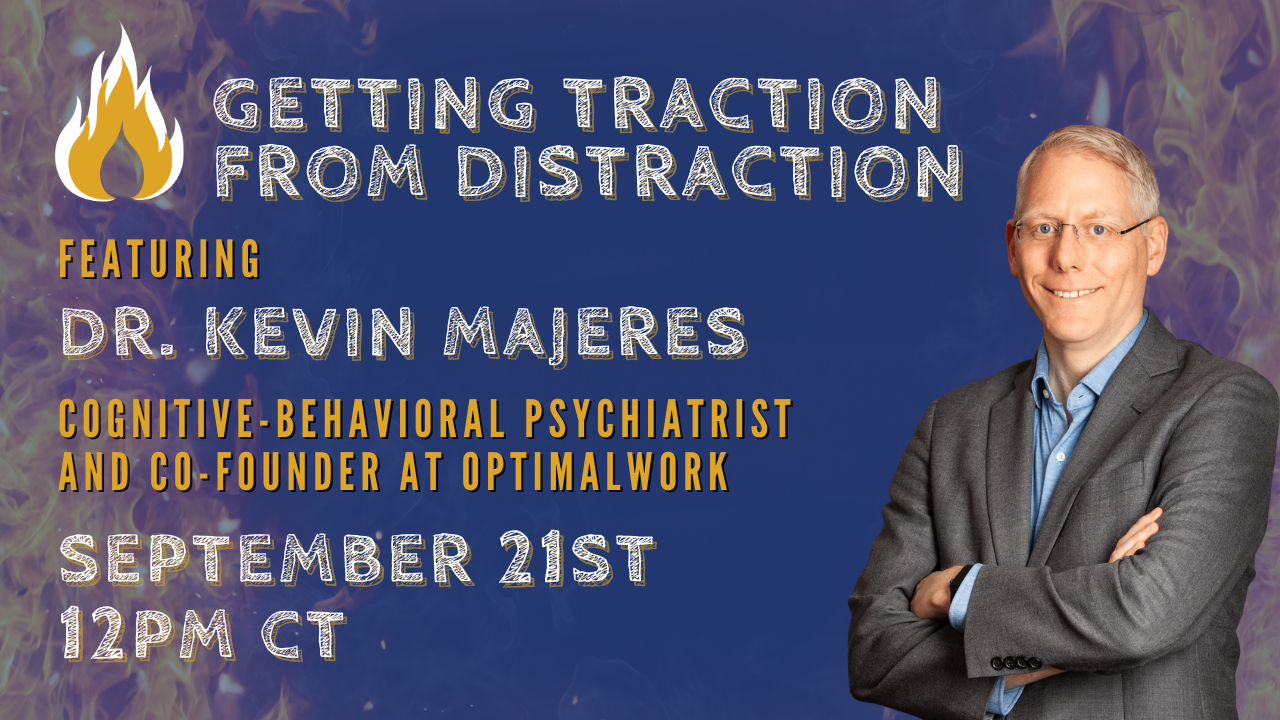 Refiner's Fire Episode 21: Getting Traction From Distraction will be LIVE on Wednesday, September 21st at 12pm CT with Dr. Kevin Majeres, Cognitive Behavioral Psychiatrist and Co-Founder at OptimalWork.

About This Episode:
In this episode of Refiner's Fire Dr. Kevin Majeres will talk about how to manage distractions inside and outside of the workplace, and also how to find the opportunity for shaping yourself and practicing virtues. You don't want to miss it!

More About Kevin:
Kevin Majeres, M.D. has served on the faculty of Harvard Medical School for the past decade, teaching cognitive behavioral therapy to psychiatrists-in-training at Beth Israel Deaconess Medical Center. He trained in medicine and psychiatry at the University of Texas Southwestern Medical School in Dallas, and completed a fellowship in cognitive behavioral therapy at the Beck Institute in Philadelphia. He maintains a private practice in Harvard Square and is a co-founder of OptimalWork.
Event schedule:
12:00pm CT: Welcome from your Host, YCP's Chief Growth Officer, Peter Blute

12:02pm-12:20pm: Dynamic interview with Kevin, led by Peter

12:20pm-12:28pm: Live Q&A from the audience

12:28pm-12:30pm: Closing remarks

RSVP below to receive instructions for how to join us LIVE! Don't forget that during the event you can submit questions in the comments for our speaker that will be asked during Q&A.
A recording of this month's interview will be made available in the online Member Portal Here after the event for Members.