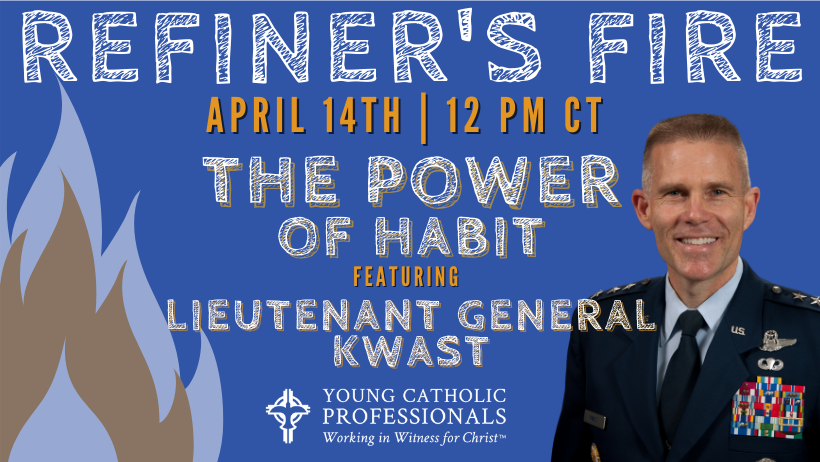 Refiner's Fire Episode 4: The Power of Habit will be LIVE on Wednesday, April 14th, at 12pm CT and you don't want to miss our interviewee, Lieutenant General Steven Kwast. Mark your calendars and invite a few coworkers to join you for a 30-minute interactive conversation with an executive who has spent his life mastering the art of peaceful international affairs and national security strategies.

The Power of Habit contains an exhilarating argument: The key to exercising regularly, losing weight, being more productive, and achieving success is understanding how habits work. You hear this when it comes to your spiritual growth too, that it takes discipline for prayer and reflection time to become a habit in the midst of your busy schedule. Virtues (prudence, justice, temperance, and courage) are habits. If we develop good habits, we then become virtuous and overall better people. This impacts all aspects of your life - including your work and how you perform it.

About Lieutenant General Steven Kwast :
Steven Kwast is a retired Air Force Lieutenant General and currently the President and Chief Global Officer for Genesis Systems, a company dedicated to solving the global water scarcity problem.

He was raised in a remote African tribe.

Steven is a graduate of the United States Air Force Academy with a degree in Astronautical Engineering.

He holds a Master's degree in Public Policy from Harvard's Kennedy School of Government and was the University President for the Air Force's University (Air University) in Montgomery, Alabama.

As a decorated Fighter Pilot, General Kwast has commanded forces in the military at every level and has extensive combat experience in every major operation since 1986.

He is married to the former Joni McDonough and they have two children.
Event schedule:
12:00pm CT: Welcome from your Host, Peter Blute, VP of YCP

12:02-12:20pm: Dynamic interview with General Kwast, led by Peter

12:20-12:28: Live Q&A from the audience

12:28-12:30: Closing remarks
RSVP below to receive instructions for how to join us LIVE! Don't forget that during the event you can submit questions in the comments for our speaker that will be asked during Q&A.
Recordings of the Refiner's Fire interview will be made available to Members in the online Member Portal Here after the event.