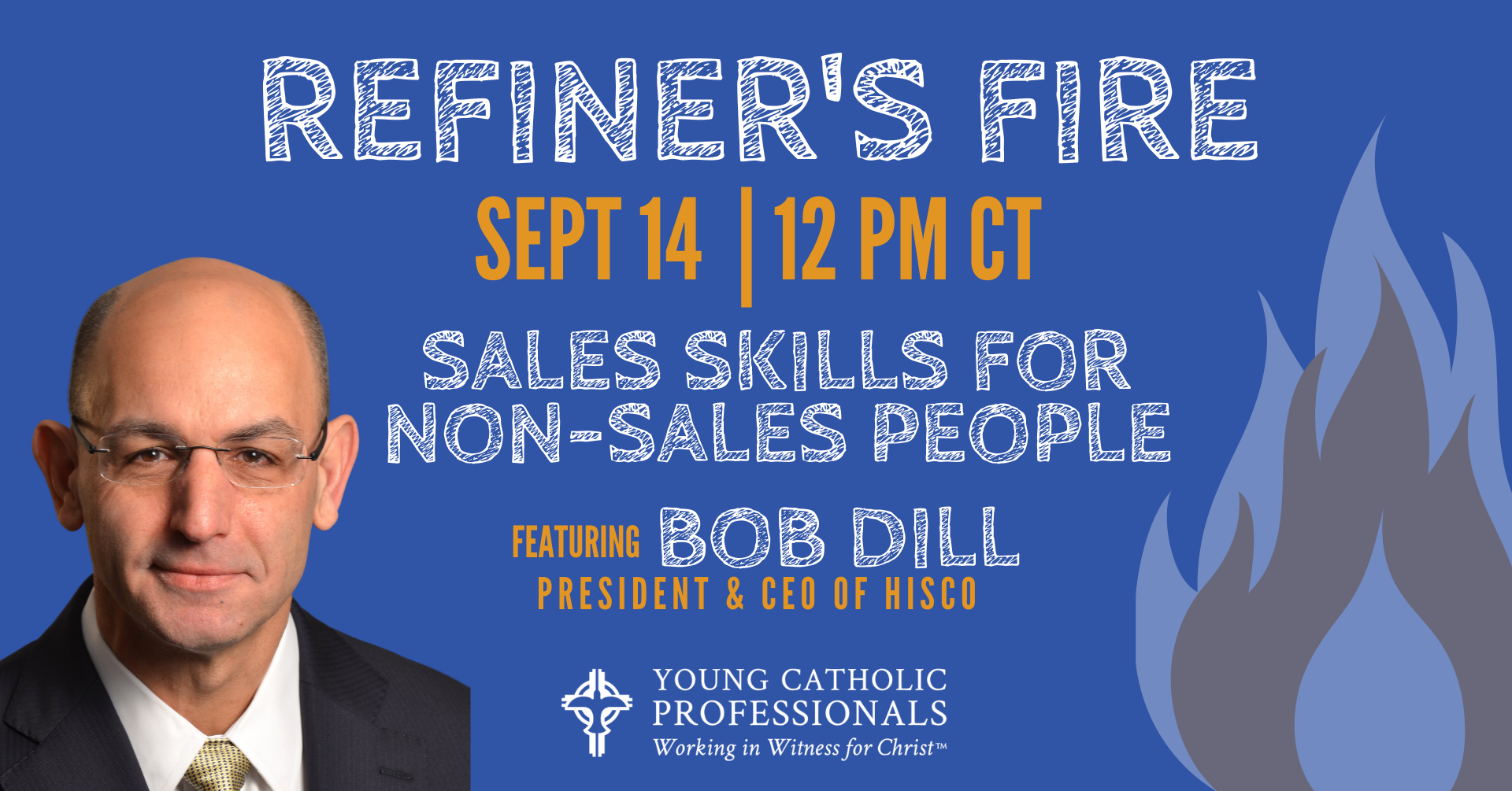 Refiner's Fire Episode 9: Sales Skills for Non-Sales People will be LIVE on Tuesday, September 14th, at 12pm CT with Bob Dill, President & CEO of Hisco. Bob started his career at Hisco as an Outside Sales Representative and worked his way up to be promoted to Executive Vice President, President, and then President & CEO. Throughout his career progression Bob has not only developed his sales skills, but understands the true value those skills are in every sector of a company. Tune in with us to hear from Bob why no matter what title we might have or aspire to, we are all still sales representatives.

About This Episode:
Whether you're trying to convince a new person to join your organization, describing a new product to a client over a catch-up call, or sharing the Catholic faith with someone who is hesitant or unsure, knowing how to sell is a great ability to have even if you don't work in a formal sales role. We'll share tips on how to prepare a pitch, what to say and how to handle questions or objections so you can confidently make your next "sale" and evangelize.

About Bob Dill:
As President & CEO, Bob's primary responsibility is setting strategic direction, and leadership for the organization. He directs an energetic leadership team focused on creating an outstanding customer experience and a dynamic work environment for Hisco's employee owners.

Bob opened Hisco's San Diego branch office in 1994 and was instrumental in the development of HiscoMex. In 1999 Bob was promoted to Executive Vice President in 1999, President in 2002 and then began serving as President and CEO in 2012.

Bob currently serves on the Industry Advisory Board of Texas A&M's Industrial Distribution Program and is a strong advocate for Employee Ownership and active in the National ESOP Association.

Bob is the Managing Director of the Lumen Institute and serves on Lumen's' Board of Director's. He has a passion for the lifelong journey of spiritual formation and helping form the next generation of values-based leadership.

He and his wife have three children, enjoy family activities, and are involved in their local church community.
Event schedule:
12:00pm CT: Welcome from your Host, Jennifer Baugh, YCP's Founder & National Executive Director

12:02pm-12:20pm: Dynamic interview with Bob, led by Jennifer

12:20pm-12:28pm: Live Q&A from the audience

12:28pm-12:30pm: Closing remarks

RSVP below to receive instructions for how to join us LIVE! Don't forget that during the event you can submit questions in the comments for our speaker that will be asked during Q&A.
A recording of this month's interview will be made available in the online Member Portal Here after the event for Members.