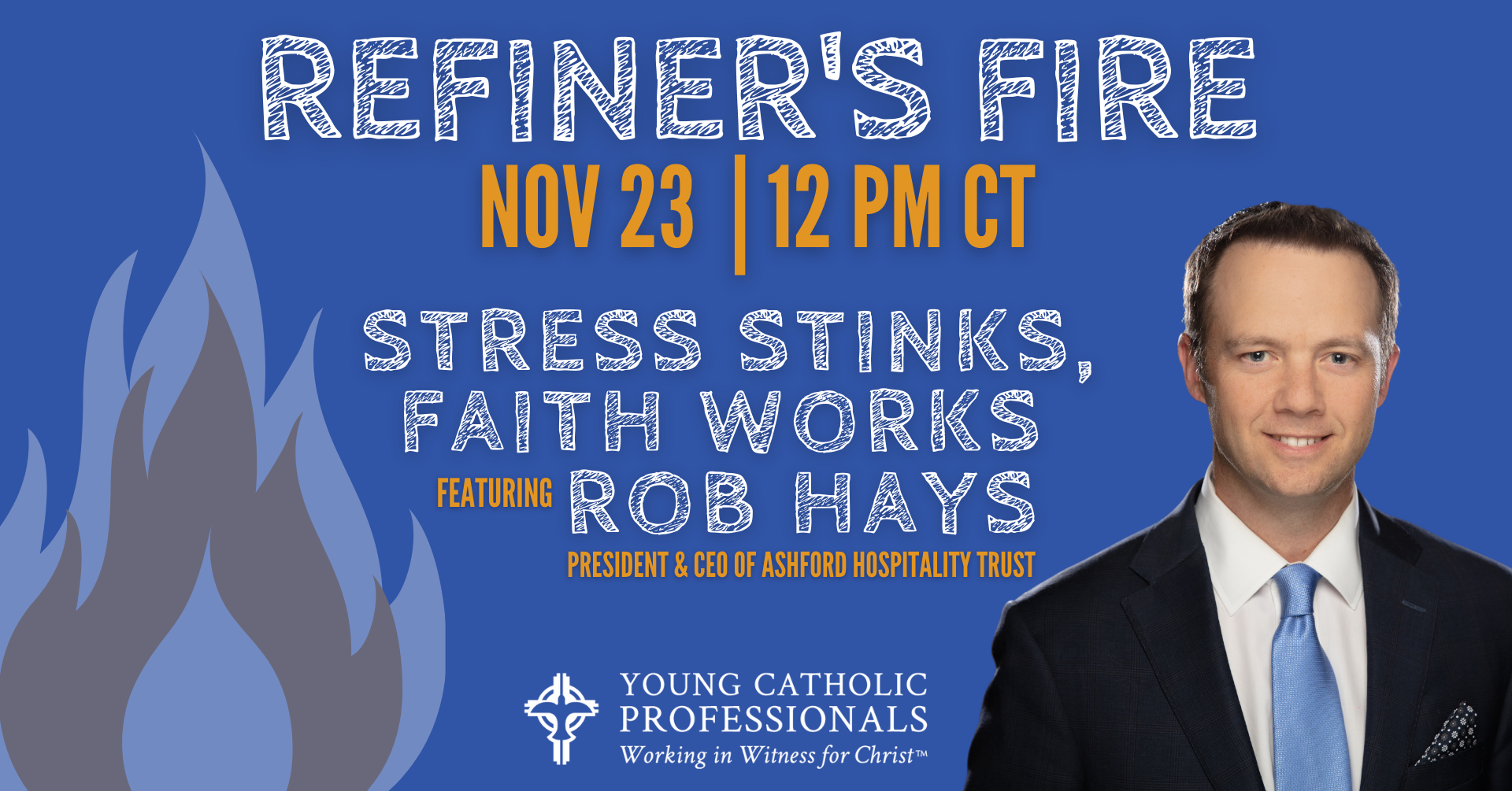 Refiner's Fire Episode 11: Stress Stinks, Faith Works will be LIVE on Tuesday, November 23rd, at 12pm CT with J. Robison Hays III, President & CEO of Ashford Hospitality Trust. While at Ashford, he has been responsible for leading the execution of key strategic and operating initiatives, and overseeing financial analysis for mergers, acquisitions, divestitures, refinancing, hedging, capital market transactions, and major capital outlays. Phew...that is quite a list! Let's also add that he was in charge of their investor relations efforts.
With every job, stress tends to come with the territory. Rob has nearly two decades of business experience operating and growing companies, so he has had his fair share of stress. However, in order to fulfill the tasks set before him, he has had no choice but to learn how to mitigate and manage the stress that comes his way.
Tune in on November 23rd to hear Rob share tangible tips for overcoming stress that comes from work and how his Catholic faith has been crucial in his ability to do so.

About This Episode:
We have all been stressed at times both professionally and personally, especially over the last year with the pandemic. Stress can negatively affect the way we treat others and complete our work well. St. Padre Pio says "Pray, hope, and don't worry. Worry is useless. God is merciful and will hear your prayer." Our faith can help us to better manage and overcome stress by showing us that we are never alone in times of challenge, as God will always be there to strengthen and take care of us.

More About Rob:
Rob also serves as the the Senior Managing Director of Ashford and is a member of the Board of Directors of Ashford Trust.

Previously, Rob served as Chief Strategy Officer for Ashford, Ashford Trust, and Braemar Hotels & Resorts. He also served as Co-President for Ashford. Prior to these roles he served as their Senior VP of Corporate Finance & Strategy.

Rob is a frequent speaker at industry and Wall Street investor conferences.

Prior to joining Ashford, Rob worked in the Corporate Development office of Dresser, Inc., a Dallas-based oil field service and manufacturing company, where he focused on mergers, acquisitions, and strategic direction.

Before Dresser, Mr. Hays was a member of the Merrill Lynch Global Power & Energy Investment Banking Group based in Texas.

Rob earned his A.B. in Politics with a certificate in Political Economy from Princeton University and later studied philosophy at the Pontifical University of the Holy Cross in Rome, Italy.
Event schedule:
12:00pm CT: Welcome from your Host, YCP's Founder & Executive Director, Jennifer Baugh

12:02pm-12:20pm: Dynamic interview with Rob, led by Jennifer

12:20pm-12:28pm: Live Q&A from the audience

12:28pm-12:30pm: Closing remarks

RSVP below to receive instructions for how to join us LIVE! Don't forget that during the event you can submit questions in the comments for our speaker that will be asked during Q&A.
A recording of this month's interview will be made available in the online Member Portal Here after the event for Members.